Viridian City: The eternally green paradise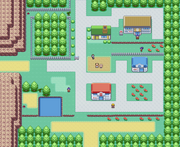 The first and last city Kanto Pokémon trainers pass through on their Gym Challange. Pallet Town is to the south, Viridian Forest is to the north, and Route 22 towards the Pokémon League is to the West.
| Pokémon | Trades for | Item |
| --- | --- | --- |
| Pachirisu | Pichu | Sitrus Berry |
Nugget
Small path west of Route 22 entrance.
Places of Interest
Edit
Pokémon Centre
PokéMart
Viridian City Pokemon Gym
The man in front of the gym will move once you get the other seven badges first.
Viridian Pokémon Gym
Edit
Coming soon!